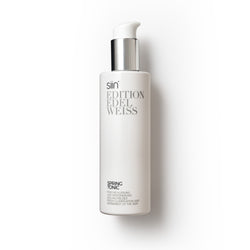 siin
Refreshing and clarifying. Spring Tonic, 200 ml
Removes the finest residues, refreshes and refines the complexion.
The non-alcoholic facial tonic Spring Tonic, 200 ml, cleanses the skin of fine residues (eg make-up residues), refreshes, refines and clarifies the complexion. Selected active ingredients such as those of the Damascus rose, the Edelweiss or green tea have an antioxidant, antiseptic and astringent effect. Allantoin soothes and relaxes the skin. The exclusive rose oil supports skin regeneration, cell renewal and skin smoothing with its high content of alpha-linolenic acid. The tip: Spring Tonic is ideal for very sensitive skin.
• Dermatologically tested. Suitable for all skin types.

• From a purchase of EUR 70, -
Free shipping in Austria & Germany.
In the morning and evening after thorough cleansing (ideally with Milky Cleanser), apply Spring Tonic gently to the face and neck with a cotton wool pad or with the fingertips and allow to absorb. The skin is now optimally prepared for the following care.
AQUA, ROSA-DAMASCENA-BLÜTENWASSER, PENTYLEN-GLYKOL, POLYGLYCERYL-4-CAPRAT, GLYCERIN, BETAIN, PHENOXYETHANOL, PARFUM, ALLANTOIN, ETHYLHEXYLGLYCERIN, PANTHENOL, NATRIUMHYALURONAT, CAMELLIA-SINENSIS-BLATTEXTRAKT, MORINDA-CITRIFOLIA-FRUCHTEXTRAKT, LYCIUM-BARBARUM-FRUCHTEXTRAKT, LEONTOPODIUM-ALPINUM-EXTRAKT, TOCOPHEROL, CITRONELLOL, LINALOOL.